Filterzelle-Glass (FZ-G)
FZ-G filter consists of a paper frame and a medium made of glass fibres, so-called Paintstop. Filtration glass medium has a progressive structure, meaning it thickens towards the outlet side of the filter. The result is a higher holding capacity of dust particles.
Moreover, the medium is impregnated with an adhesive substance, increasing accumulation of rough dust particles at very low pressure loss. Glass medium is fixed to the cardboard frame.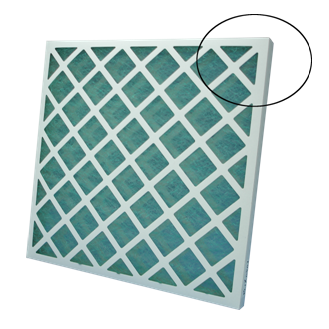 Field of use
Paint shops
Filtration of rough dust particles
Delivered sizes
497 x 497 x 45 mm 597 x 597 x 45 mm 497 x 624 x 45 mm
FILTER INSERTS Z-LINE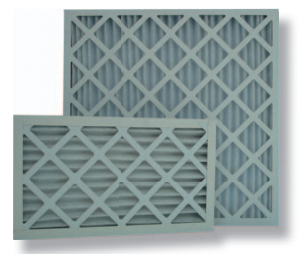 Filter inserts Z-line consist of folded synthetic filtration fleece which is inserted into the stable frame, impregnated against humidity, made of cardboard with a protective grille on the inlet or outlet side.
Z-shape folded filtration medium allows high air flow at low pressure loss and small installation depth. Filtration medium is reinforced with a net and cannot regenerate.
Standard building depths are 48mm, 96mm, 147mm. At the customer request, we can deliver depth from 25 to 150 mm.
Field of use
Filter inserts of Z-line are used for rougher filtration in ventilation and air-conditioning equipment.
Advantages of design
High economic efficiency due to low initial pressure drop and high nominal airflow rate
After use, filters can be completely burnt
High active filtration area ensures high dust holding ability
Air supply equipment
General ventilation and air-conditioning
Prefilters of air inlet for clean area
Automotive industry
Paint shops
Examples of use
Air supply equipment
General ventilation and air-conditioning
Prefilters of air inlet for clean area
Automotive industry
Paint shops
FILTER INSERTS MULTIPLAN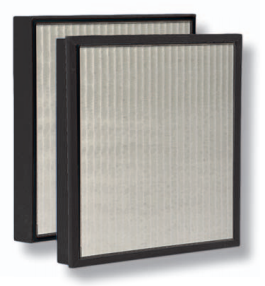 Special filtration papers made of cellulose or glass submicron fibres with the required filter class are used as a filtration medium.
This filtration paper is folded into the required filter class. This filter paper is folded into a stable thread with the optimal number of folds and height with respect to the operating point of the filter. Hot-melt beads ensure not only stability of a compact fold structure, but also regular and parallel folds of the filtration medium and this allows a complete use of the filter area. Filter thread is sealed by sealant into the filter frame made of MDF board (pressed wooden fibres), equipped with a protective layer.
If the humidity-stable filter is required, it is possible to use a water-resistant plywood. On request, the frame can be made of the following materials –zinc-plated steel metal sheet, stainless steel metal sheet or aluminium metal sheet. Flat rubber sealing is standardly glued onto the inner side of the filter insert.
Field of use
Filter inserts MULTIPLAN in filter classes F6, F7 and F9 are used especially as prefilters for highly efficient filter inserts, for which they ensure the appropriate conditions of their function and prolonged lifespan. The economical dimensions of filter inserts allow their mutual installation into filtration cabinets.
Advantages of design
Proved structure ensures high mechanical stability
High flexibility in use
High nominal air flow rate in small dimensions
Separation of filtration paper without the use of metals
Filter area is optimized according to the use
Examples of use
As prefilters in industries
Medicine
Microbiology
Chemical industry
Pharmaceutical industry
Food-processing
Electrical engineering industry
Delivery
Filter inserts, various sizes