We offer a wide range of clothes for industrial paint shops, the automotive and chemical industry and also for other industrial fields.
We offer disposable coveralls and coats with protection level 5/6. Furthermore, we sell high-quality coveralls and coats for universal use and in various colours.
Clothes are delivered by first-class manufacturers of protective clothing such as 3M, Lakeland and HB Shutzbekleidung. The majority of clothes are antistatic.
Coat MicroMAX NS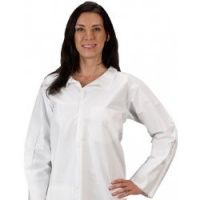 Disposable coat, without pockets and seams
Protection against chemical substances and dust particles
Microporous material
Colour: white
Use: as a protection against light sprays of liquid chemicals with low risk, dangerous solid particles, oils, resins and paints, protection during food processing
Intended for: paint shops, chemical, pharmaceutical, electrical engineering and mechanical engineering industries, agriculture and maintenance
EN13034/2005 type 6, EN13982/2004 type 5
Packing: 1 pc
Size: XL
Coat HABETEX MICRONSELECT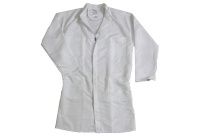 Product description: collar, front hem with hidden plastic zipper. 1 breast pocket left, 1 breast inner pocket right, 2 side pockets, raglan sleeve with plastic press studs for adjusting
Quality: HABETEX – Micronselect
Composition: 99 % polyester, 1 % carbon fibre
Weight: 115 g/m2
Size: 42/44 - 66/68
Colour: white
Intended for: automotive and industrial paint shops
Overall MicroMAX NS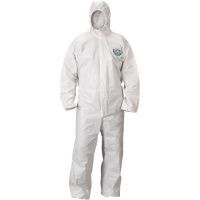 Lightweight disposable overall
Intended for protection against chemical spray, dust, liquids and water vapours
Antistatic properties
Other fabric properties: seams sealed with a tape; flap over the zipper is equipped with a two-sided adhesive tape to perfectly seal zippers; a three-part hood and embedded gusset in the crotch – the overall fits better and survives more
Complies with standards: EN 1149-1, EN 1073-2, EN 13034 type 6, EN 13982-1 type 5
Used also as protection against radioactive contamination particles
Colour: white
Size: M-3XL
Intended: for application in hospitals, in health-care, in clean rooms, in handling of chemical solutions, industrial maintenance, asbestos removal and handling of it, etc.
Overall HABETEX MICRONPLUS (without hood)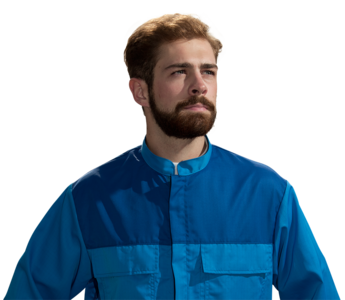 High quality: HABETEX – Micronplus
Composition: 99 % polyester, 1 % carbon fibre
Weight: 150 g/m2
Size: 42/44 to 66/68
Colours: two-colour version: royal blue/Bugatti blue or anthracite/silver grey, Single-color version – white and grey
Intended for: automotive and industrial paint shops
Overall HABETEX MICRONSELECT (with hood)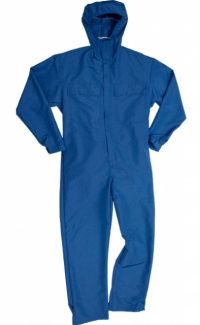 High quality: HABETEX - Micronselect
Composition: 99 % polyester, 1 % carbon fibre
Weight: 115 g/m2
Size: 42/44 to 66/68
Colours: royal blue/anthracite/white
Intended for: automotive and industrial paint shops
Overall Micromax CoolSuit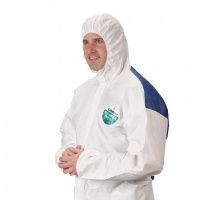 Disposable protection overall type 5 and 6
Protection against limited overspray and dust
Use: protection against paints and detergents and e.g. splashes of liquid chemicals with a low level of danger, various assembling works, paint shops, maintenance, etc.
Properties: a blue breathable part is inserted in the back area and this increases breathability
Breathable part on the back is made of Safegard 76 material in blue colour for easy identification. This part allows breathability of wear and this means that MicroMAX NS Cool Suit is comfortable even in the hottest working conditions
The suit contains blue connecting seams for excellent strength of the suit and also higher resistance against particles and liquids on seams
Colour: white with blue back and seams
Manufacturer: Lakeland
Size: M - 2XL
Packing: 1 pc