POCKET FILTERS G3 – F9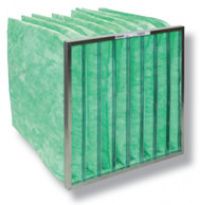 Pocket filters are produced from synthetic layered material. Individual pockets are self-supporting and they are connected to the rib-like structure fixed into the stable metal frame. Pocket filters maintain their good properties even under high pressure and in an extremely dusty environment.
Production of pocket filters is made under the quality management system according to ISO 9001. They correspond with anti-fire standards for the EU and the USA (DIN 53438, UL 900). They are marked with the production mark, filter type and filter class (EN 779).
Pocket filters are found in air-conditioning and ventilation devices from offices to heavy industry. They are used everywhere where there are high demands on efficiency and dust holding capacity at low pressure loss. They are known for their long lifespan which significantly contributes to the prolongation of intervals between the exchanges of these pocket filters. Advantages are clear: reduction of costs for energy and maintenance.
The frame of a pocket filter can be made of zinc-plated metal sheet or plastic. Pocket filters are standardly delivered in a frame made of zinc-plated metal sheet.

POCKET FILTERS MULTISACK G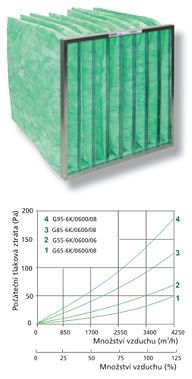 The bag filter consists of the front fixing frame and several filter bags. Individual bags are of wedge-shaped design and they are made of micro glass fleece. Distant threads ensure full-scale use of the depth of the bag and thus also overall filtration area. Filter bags are fixed into the stable frame of U-profile (height of 25 mm) by using glue and fixing elements. Frames are made of zinc-plated metal sheet or from the plastic profile.
Field of use
Bag filters are used for fine filtration with high level of arrestance.
Examples of use
Ventilation and air-conditioning systems of industrial companies, public buildings, schools, sport halls.
Ventilation and air-conditioning equipment for laboratories, hospitals, chemical and pharmaceutical production plants
Air inlet for spray booth and ventilation of airport lounges
Advantages of use
Bag filter with a plastic frame can be fully burnt after its exchange
Full-scale use of the bag´s depth ensures high dust capture capacity
Wide assortment of standard design of the bag filter with ten sizes of front frames
Other options of design
Antistatic – version for explosive environment, marking EX
SepTex – antibacterial and anti-fire version
POCKET FILTERS MULTISACK K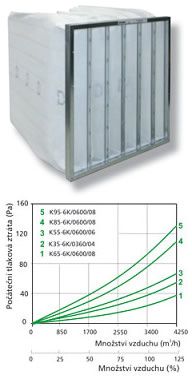 MULTISACK K (synthetic) pocket filters are composed of several filter pockets. The individual pockets, made of synthetic fibre have been shaped so as to provide wedge-shaped filter pockets. The spacers in the individual filter pockets ensure complete utilization of the full pocket depth and, in turn, of the entire filter surface. The ready-to-install filter pockets are secured to sturdy U-shaped profile frames (25 mm) by clamp fittings. The frame is made of galvanized steel.
Field of use
Bag filters are used for rough and fine filtration with high level of arrestance.
Examples of use
First filter level in multi-level filtration
Ventilation and air-conditioning systems of industrial plants, public buildings, schools and sport halls
Ventilation and air-conditioning equipment for laboratories, hospitals, chemical and pharmaceutical production plants
Air inlet for spray booth and ventilation of airport lounges
Advantages of use
Bag filter with a plastic frame can be fully burnt after the exchange
Full-scale use of the depth of the filter ensures high dust capturing ability
Wide assortment of standard design of bag filter with ten sizes of front frames
Short delivery times
Other versions
Antistatic – version for explosive environment, marked EX
SepTex – antibacterial and anti-fire version